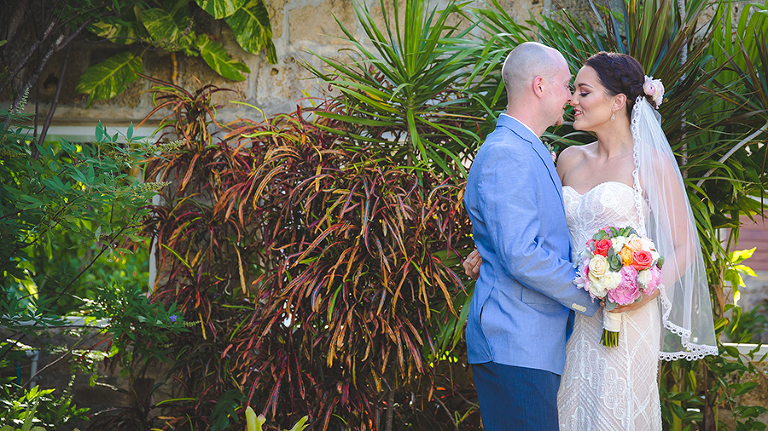 Elopements are on the rise (particularly amongst millennials) yet sadly there's still a lot of misunderstanding about what it means to elope. Choosing to elope can be a great way to have an intimate, romantic day with your partner and the people closest to you — and yet, there are so many common elopement myths that paint them as something they are not. The only way you can truly know if choosing whether a romantic elope is right for you is to see past the myths and figure out what it really means to elope!
Here are the common elopement myths you should look out for, so you can understand how a wedding in St. Croix could be the most special day of your life:
Myth #1. Elopements Are Last Minute
This is such a common elopement myth —  and it's so wrong. Elopements aren't some hastily-planned, last-minute panic when you decide you don't want a regular wedding. Elopements, like any great holiday, can be planned months in advance, so you can make sure every detail is picture-perfect! We get couples in St. Croix who have been planning and dreaming for as long as they can remember. It's a conscious choice and a huge decision for many couples, so there's often a lot of planning that goes into it.  
Myth #2. Elopements Mean Just The Two of You
Sure, if you want it to be that way, your elopement can just be you and your partner and an officiant — and if that sounds great, go for it! But elopements can also include your nearest and dearest. We regularly see couples bring their parents or a few close friends along. It's your day — so you can make it exactly how you want it.
Myth #3. Elopements Are Hard To Plan
Because there's this idea that elopements suddenly just happen, many couples feel like they need to put in all of the effort themselves — which simply isn't the case. We help couples plan their elopement — and provide everything right on our website. From all of your questions about marriage licenses to vendors to trivial questions, we've got you covered so your wedding in St. Croix can be a breeze.
Myth #4. Elopements Are Not As Special
The idea that elopements aren't special or are somehow less than a wedding is probably the worst elopement myth out there —  for some couples, their elopement is the most special day of their lives! A wedding should be about what's special to you, not about society's expectation of what's special. Plus, what could be more romantic and monumental than being in paradise with the person you love?
Myth #5. Elopements Are Selfish
Some people have the idea that eloping isn't fair to your friends or your family — but getting married is about you and your partner. Everyone's relationship with their friends and family is different — and, as we mentioned, they can easily be included. But ultimately, it's about the two of you — and the people in your lives should understand that you want to start your new life together in a way that feels right to you.
Myth #6. Elopements Mean No Bridal Shower Or Bachelorette Party
Finally, just because you're deciding to elope doesn't mean you can't have all of the fun that happens around a traditional wedding. A common elopement myth is that you can't have a wedding shower or a bachelorette party — but why not? You're still having a wedding, after all! And there's no rule book that says how you can or can't do it. In fact, a lot of people find these celebrations a perfect way to include their friends and family if they're choosing to elope.
Myth #7: Elopements Are Too Small To Have A Theme
Many people think that elopements are limited to a couple of people and a beach or a registrar — totally untrue. We've seen every theme under the sun here in St. Croix — the sky really is the limit! In fact, the amazingly diverse landscape we have in St. Croix makes it perfect for a theme wedding. From a jungle to a desert to a gorgeous beach, it's all here!
Choosing an elopement is a huge decision – and one that you shouldn't take lightly, but don't be fooled by all of the common elopement myths out there. Eloping is a magical experience, often planned in advance with your friends and family. If you want to find out more, check out our website and get in touch to find out more about your perfect elopement — and how you can claim your own little slice of paradise!